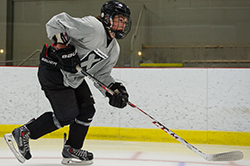 Week Long Camp—August 13th to 17th
9am to 4pm Daily @ uOttawa Minto Sports Complex
$460+HST
Details:
With the season in the not too distant future we will be pushing the kids to knock the rust off before their tryouts or seasons begin. We are aware that many will be starting tryouts soon after the program so we will keep them moving each day but taper the intensity as the week progresses in an effort to have them fresh for their upcoming tryouts.
Program Highlights:
Two hours of ice daily
Team Building Activities
Hockey Specific Off Ice Training
Instruction from Next Generation HKY & the uOttawa Gee Gees!
Program Overview:
Top Notch Skating Dynamics—Skating Efficiency
Power skating will be designed around taking the students out of their comfort zones and pushing them to become a more efficient and powerful skater. We will go back to basics and teach all the tools for amping up each students skating the their true potential. It will include lessons on forward and backwards stride, starts, stopping, power turns, lateral mobility and an overall emphasis on DPS (Distance Per Stride) for all aspects of skating. Pucks will be incorporated to reinforce good skating habits while handling a puck. Players can expect a progressive learning curve to a plateau of perfect technique and efficiency.
Building Confidence in Game-like Situations
We will break down the individual skills each student needs to gain confidence for the finer points of the game. We will put pucks on the kids sticks and push them to become more confident and more creative in game situations. They should expect to learn the proper methods of stick handling, shooting, passing and how to better use the ice to their advantage in game situations. We will start off slow to ensure proper technique and as the students' progress we will get their feet moving to incorporate the skating dynamics with their new-found confidence to make these skills permanent. Small area battles and scrimmages will also be used to give each student the chance to hone their skills in quick reaction type situation.
Battle and Small-Area Games
Drills specific to puck protection, puck separation, angling and strategy will be used. Each player will be taught these skills appropriate to their age and skill at all times, with younger players focus being on angles and safety when using their stick and body position to gain the puck from an opponent
Off-Ice Training
Hockey specific Off Ice training exercises to develop quick feet, leg strength, soft/creative hands, shooting accuracy, aerobic capacity, endurance and to prevent injury. Circuit Training & Plyometrics
Team Building, Leadership & FUN/GAMES
Players will work with each other to understand leadership, team work, and goal setting. Each player regardless of their long-term hockey goals will in their lives require both team work and leadership skills. We will use games and activities for the players develop skills for working with their teammates and other, while providing a FUN environment for all campers!
Aug 13 - 17, 2018
| | | |
| --- | --- | --- |
| Camps (ages 5-17) | Code | Cost |
| Player Development Camp | 8936 | $365.00 |
| Shooting & Stickhandling Camp | 8938 | $149.99 |
| Defensive Skills Clinic | 8957 | $149.99 |