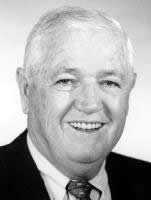 Jack Donohue (1931-2003) is a former Ottawa resident and legendary New Yorker who coached NBA legend Kareem Abdul Jabbar (then Lew Alcindor) in high school before serving for 17 years as the Canadian national men's team coach.
Jack was the longest serving head coach in amateur or professional sport in Canada and the most successful team sport coach at the amateur level. He was inducted into the Canadian Olympic Hall of Fame in 1991, the Canadian Basketball Hall of Fame in 1992, and in 2000, the New York City Basketball Hall of Fame and the Ontario Basketball Hall of Fame. He was also a member of New York City's Coach's Hall of Fame.
Coach Donohue enriched the lives of all he touched. To his players he was an inspirational leader and father figure. To the coaching ranks a role model and to the sport community he was a mentor and passionate spokesperson for the importance of amateur sport in Canada. His impact on sport in Canada transcends his contribution to basketball and is shared across the sport community.
Jack Donohue passed away in April 16, 2003 at the age of 71. Just days before, he won the 2003 Coach Mac Award, given by the Toronto Raptors to "an individual who has made a major contribution to the sport while upholding the principles of honesty, integrity, competitiveness, and love of the game."